description of the work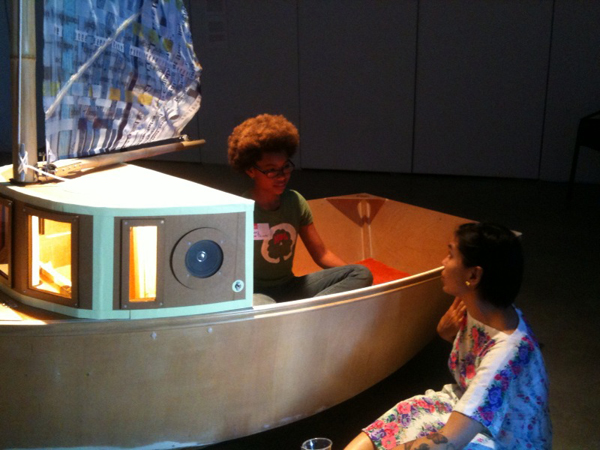 "There can be an elsewhere, not as utopian fantasy or relativist escape, but an elsewhere born out of hard (and sometimes joyful) work of getting on together in a kin group that includes cyborgs and goddesses working for earthly survival." -Donna J. Haraway

Elsewhere is a modular installation sited around an interactive life-sized toy rocking boat. The boat is an assemblage of materials selected for their poetic and historic relationship to home and communication technology. This includes domestic fixtures, common furnishing materials, cardboard, textiles, text, and letterpress type. Participants are invited to interact with the boat by manually rocking it. The movement produces laughter through a motion sensitive audio system. "Elsewhere," borrowed from the writing of Donna J. Haraway, designates a possible geography for collaborative work in the worthwhile, though never entirely knowable, aspiration toward a better world. Here, Elsewhere is proposed as a physical and conceptual vehicle for thinking through and tangibly engaging with collective understanding, mutual connection, and imaginable community.


acknowledgements
Possibility arrives as the consequence of opening to our relationships. Elsewhere is evidence of the support and inspiration of many people, including: Angelita de Leon, the de Leon family, Eric Talbert and Jamie Jones, Kayla and Amber Rose, Wolfgang Hagar and Tobias Star, Roxie Longstocking; Chip Lord, Soraya Murray, Caetlin Benson-Allott, Jennifer Parker, Barney Haynes, Bruce Kirk, Elliot Anderson, Sharon Daniel, Warren Sack, Felicia Rice, Cris Imai, Lyle Troxell, Ralph Abraham, Karen Barad and Donna Haraway; Miki Foster, Laila Shereen Sakr, Lindsay Kelley, Nicole Archer, Nik Hanselmann, Nick Lally, Karl Baumann, Kyle McKinley, Christine Wong Yap and Dr. Anna Buchsbaum; The Porter College Graduate Arts Research Committee and the Florence French Fund. Ahoy! All my thanks for making this project possible and for all your encouragement to marry so freely joy, work, theory and making.
download written thesis here.